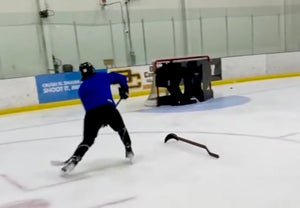 THE WORLDS MOST ADVANCED AND DURABLE TRAINING AIDS
At edgebosshockey, we specialize in creating hockey training products built to promote skill acquisition and training development. Lightweight and durable, each hockey training tool has been designed to withstand the constant barrage of stick, puck, and skate strikes, creating opposition and interference to the simplest or most complicated skill drills. Shop our selection of hockey training aids today and Be A Boss!
SIMPLY The Best Training For Hockey - period!
Innovative drills & #EBH gear, the Coach, Association or Training Business can be confident introducing basic fundamentals or the latest sophisticated skill with immediate & measurable results.
Testimonials
'I have worked with edgebosshockey gear over the last few years and my game has improved so much.  These on-ice tools are a big part of my success as a hockey player."

Blake Kondor, Camrose Kodiaks
"I've worked with edgebosshockey training aids for several years now and the small area skill development is truly amazing. My hands are quicker, my feet are quicker and my confidence with the puck has really improved"

Wyatt Fluet, Red Deer Midget AAA
"EBH gear always challenges me and leaves me wanting more. Its my favourite skills and skating training I do by far. It ends up being a great workout too because of all the reps you do…"

Ronan Seeley, Everett Silvertips
"I have seen and worked with training aids designed by edgebosshockey from the grass roots up and have been impressed with the ingenuity of the design process. My son has trained on all of the equipment prototypes put out and I can say with confidence that by using this training equipment he has escalated his skills and abilities on the ice."

Dave Waiting, coach, Bantam "A"
"I always looked forward to using (EBH) equipment and not only was fun, but also very beneficial!! I only have been doing this for one year and have noticed a substantial improvement in my stick handling, puck placement and skating! I would not be the hockey player I am today without all of coach Pat and his edgebosshockey training aids. The creative equipment gets your brain thinking at a different level and there is so many situations that the equipment is applicable to game situations

Kaleb Kremp, Bantam "AAA"
We have watched our son train and work with Pat Seeley for many years.  Edgebosshockey training aids have developed Jake and has no limits for his continued development.  It's exciting to watch and see the players compete with themselves and teammates to complete such challenging drills! 

Tanya Lacoursiere, Mother to Jake Neighbours
I have been coaching hockey at an elite level for over 10 years and have never experienced a product like what EBH provides. With the Bantam AAA teams I coach the skill level sky rockets once we start our skills sessions. It is incredibly tough for these players and it challenges them every session and vastly improves their existing skills while expanding their skill set as well.

Justin Jarmolicz, Head Coach, Red Deer Bantam "AAA"
"Innovative product design that is both portable and durable and helps take our practices to a higher level of skill development"

Matt Stringer, Hockey Dad, Midget AAA
Edgebosshockey training aids have taken my game to the highest level by helping me to skate outside my comfort zone. I have had significant improvements in my edge control and transition, stride length and explosive speed. Thanks to edgebosshockey I now have the confidence to play on the edge!

Kolby Joyce, Peewee A
Edgebosshockey training aids and it's coaches have helped me greatly to get to the level I'm playing at today. It has made me the player I am, and I don't think I would have nearly as much knowledge and skill about the game as I do today without it!

Charlie Wright, Saskatoon Blades
Please Tag @EBH or @edgebosshockey on instagram to share your drill with the EBH community!!